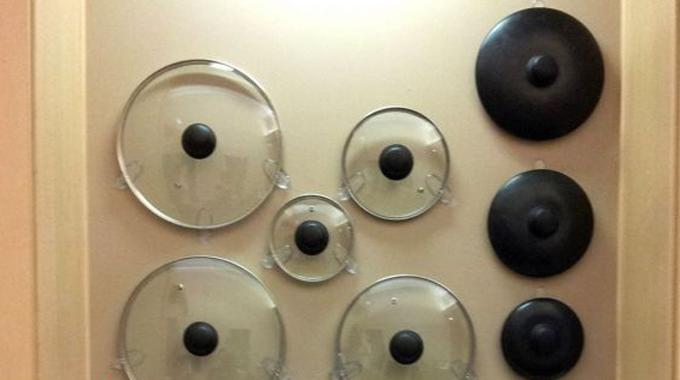 But if ! The one that consists of hiding them in the door of your closet.
Well we found another even easier to install.
How to do
1. Get hooks.
2. Fix them on the wall as in the photo.
3. Slide the covers over the hooks.
Results
There you go, your pan lids are now tidy 🙂
Easy, practical and inexpensive!
It's still a lot cleaner like that, isn't it?
With this storage tip, your lids are not only tidy, but also within easy reach. Smart, isn't it?
Take 30 seconds to subscribe to our newsletter. You will receive the best little tips of the week. It's free.
Your turn…
Have you tried this economical tip for storing lids? Let us know in the comments if it worked for you. We can't wait to hear from you!
Do you like this trick ? Click here to save it on Pinterest or click here to share it with your friends on Facebook.
Also to discover:
How to store the pot lids properly? The Secret Unveiled.
A Tip for Storing Lids When You Are Short of Space.