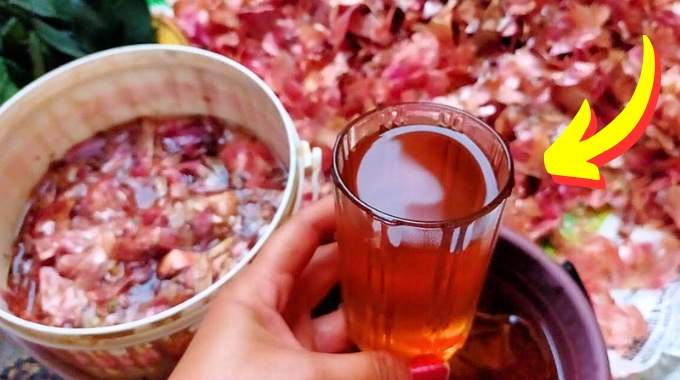 Did you know that plants love onion skins?
Instead of throwing them away, make them a natural fertilizer!
It was Paul, the gardener in my town, who explained to me how to reuse onion skins.
His recipe is super simple to make a super rich fertilizer for plants.
Since using it, I have seen my green plants grow much faster.
Here is the recipe for natural onion skin fertilizer. Look :
Ingredients
– skins of 5 onions (yellow or red)
– 1 liter of water at room temperature
– scissors
– bottle
– colander
How to do
To make 1 liter of fertilizer
1. Collect the skins of 5 onions.
Note : if necessary, keep the peels until you have the right amount.
2. Cut the skins with the scissors into small pieces.
3. Put everything in the bottle.
4. Pour the water over to fill the bottle completely.
5. Leave to infuse in a temperate and bright place for at least 24 hours.
6. When the mixture has taken on a beautiful golden color, filter it with the colander.
7. Return the liquid to the bottle.
Result: a natural fertilizer made from onion skins
And There you go ! Your homemade onion peel fertilizer is already ready 🙂
Easy, fast and natural, right?
Nothing could be easier to prepare.
And it doesn't cost a penny!
In addition, we recycle waste, and that's really great for the planet.
All that remains is to water your plants with this fertilizer.
I explain how to dose it now.
How to use onion skin fertilizer?
This fertilizer is very easy to use.
Pure or diluted, it is suitable for most plants: green plants, orchids, vegetable plants, flower boxes…
Just water them normally with this mixture. That is, with the same amount of water as usual.
For my part, I put it 3 times a month in winter to stimulate flowering and growth in spring.
In summer, I reduce the dose a little to go to 2 times a month.
And I stop the contribution in autumn and beginning of winter to let the plants rest.
Note: the mixture will keep for about 15 days in the fridge, no more.
What are the benefits of this homemade onion fertilizer?
Onion skins are rich in nutrients such as potassium, phosphorus and calcium.
And that, whether the onion is yellow or red.
They are therefore beneficial for plant growth and flowering.
In particular phosphorus which stimulates the root system of the plant.
That's why I use it on my cuttings…and you see the results in a few months!
Not bad is not it ?
And you know the best?
This fertilizer also helps fight mildew on young vegetable plants such as tomatoes, beans, potatoes.
Indeed, the onion is known for its antifungal properties.
Your turn…
Have you tried this onion skin fertilizer recipe? Let us know in the comments if it worked. We can't wait to read you!
Share this tip
Do you like this trick ? Click here to save it to Pinterest or click here to share it with your friends on Facebook.
Also to discover:
The 7 Best DIY Garden Fertilizers.
7 Uses of Onion Skin.