It is enough to make a 1st hot cycle with white vinegar and a 2nd with bicarbonate. Look :
What you need
– White vinegar
How to do
1. Put your bath towels in the washing machine.
2. Choose a 90° warm wash cycle.
3. Pour 250 ml of white vinegar into the machine without adding detergent or fabric softener.
4. Once the cycle is finished, make a second cycle at 90° with 150 g bicarbonate (and nothing else).
5. As soon as the cycle is finished, dry your towels well spread out in the sun or in the dryer.
Results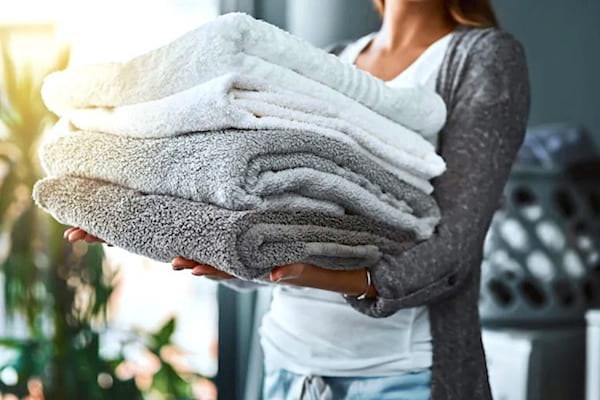 And that's it, your towels are now very soft and have regained their absorbency 🙂
Easy, fast and effective, right?
It's still nicer to have very soft towels that wipe well!
You can put the white vinegar in the detergent drawer and the baking soda directly in the drum.
Why does it work?
White vinegar removes detergent and lime residue stuck to the fibers of terry towels.
This first wash makes the towels instantly softer.
As for baking soda, it dissolves greasy residue, neutralizes odors and restores the absorption power of your towels.
Your turn…
Have you tried this grandma's trick to soften your towels? Let us know in the comments if it worked for you. We can't wait to read you!
Do you like this trick ? Click here to save it to Pinterest or click here to share it with your friends on Facebook.
Also to discover:
The Trick to Remove Musty Smell from Bath Towels.
A Second Life For My Towels.