Here I give you the easy recipe for making your homemade milk breads.
You will see, there is nothing simpler. And nothing better!
Nothing to do with those in the store which are too sweet and stuffy.
It was my baker who gave me his quick recipe for soft milk bread.
I've been cooking them for months now, and I'm delighted. Finally healthy and tasty breakfasts!
Here's how to make these super chewy homemade milk breads in minutes. Look :
Ingredients
– 500 g of flour
– 250 ml of milk
– 2 eggs
– 40 g of butter cut into small cubes
– 35 g of powdered sugar
– 1.5 sachet of yeast
– 1 teaspoon of salt
– 1 brush
– a fork and a knife
– a towel
How to do
Preperation : 40 min – Cooking: 15 min – For 12 rolls
1. Put the flour, sugar, salt and baking powder in the bowl.
2. Launch the robot at the lowest speed.
3. Heat the milk for 30 seconds and add it little by little.
4. Leave to mix for 3 minutes.
5. While the mixer is running, add the egg and butter.
6. The dough should knead for another minute.
7. Increase speed to 2 and let run for 8 minutes.
9. Cover the bowl with a tea towel and put the dough to rise for 1 hour at room temperature.
10. Place the dough on the floured work surface and press it down with the palm of your hand.
11. Turn it over and continue to flatten it with your palms until the dough is soft.
12. Divide the dough into 12 balls and roll it to form sausages.
13. Place the sausages on the baking paper.
14. Let the dough rise for another 40 minutes or so.
15. Meanwhile, preheat the oven to 180 °
16. Crack the second egg and beat it with the fork.
17. With the brush, spread a little beaten egg on each bun.
18. With the sharp knife, make two stripes on each of the loaves.
19. Bake and cook for about 15 minutes.
20. When the baking is finished, take the breads out of the oven and wait 5 minutes before touching them.
21. Leave them to cool on a damp cloth (the first cloth will do).
Results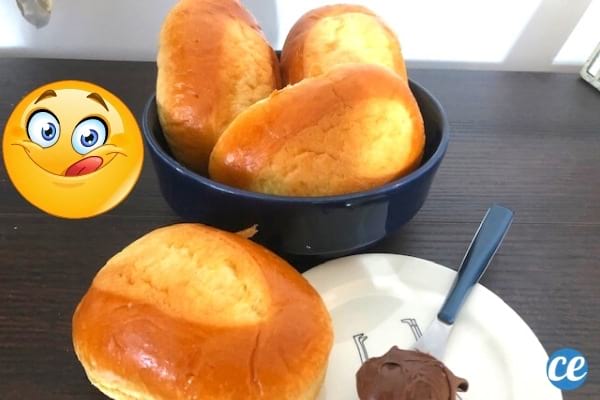 And There you go ! Your individual milk rolls are already ready 🙂
Easy, healthy and delicious, right?
All you have to do is taste them and feast!
You know what ? I love them for breakfast or afternoon tea.
With honey, jam, a little butter or homemade spread, it's super good.
Store the pains au lait in a tea towel that you will put in an airtight box.
If you're a bit lazy like me, bake more buns and freeze them. They hold the freezer perfectly.
When you feel like it, take them out of the freezer and put them in the oven for a few minutes.
My tips for making good homemade milk breads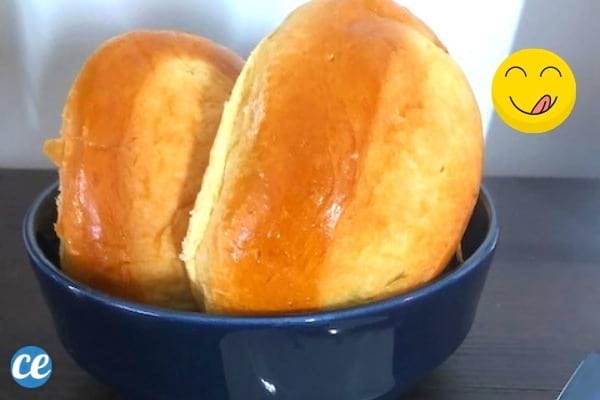 – The recipe is easier if you have a pastry robot such as Thermomix or Companion. A bread machine works well too.
– But we can very well do everything by hand. It is enough to knead the dough well manually!
– For perfect cooking, use bread molds, also called imprints.
– Tired of plain breads? Put a few chocolate chips, sugar grains or pralines.
– Even better ! Remove the sugar from the dough and add a little more salt. It'll make great New York-like hot dog buns. With a few sesame seeds on them, you have homemade burger buns that just need to be garnished.
Your turn…
Have you tried this recipe for milk rolls? Tell us in the comments if you liked it. We can't wait to hear from you!
Do you like this trick ? Click here to save it on Pinterest or click here to share it with your friends on Facebook.
Also to discover:
4 Tips To Easily Brown A Cake.
Soft and inexpensive: My Tasty Vendée Brioche