The inside of kitchen cupboards is not always as clean as one would like.
Well that's a bit normal…
But the inside of cupboards tends to get dirty quickly.
Crumbs, traces of fat, dust, sauce stains…
Fortunately, cleaning the inside of kitchen cupboards… It's super simple!
Here is the quick and easy trick to deep clean inside cupboards effortlessly. Look :
1. Remove all items from cupboards
This is especially useful if you have a lot of stuff stored in the cupboards.
It's a little tedious to do, but it does save time in the end.
Pans, plates, glasses, Tupperware, but also bottles of oil, packets of pasta and rice, spices…
Take it all out!
But if you have few things stored in the cupboards, go directly to step 3.
2. Remove cupboard storage
You may have installed specific storage for the interior of the cupboards?
You are right, because it does save a lot of space.
Cutlery, lids, Tupperware, baking sheets… are well stored.
But to clean the inside of cupboards easily and quickly, it is best to remove all this storage.
If you're used to putting liners on your shelves, take them off too.
Now is the time to clean them or change them.
3. Remove crumbs and dust
Now that everything is out, it's time to get down to business.
Are there a lot of crumbs in your cupboard?
A wipe with a cloth or sponge and they will disappear immediately.
If there is really a lot of dirt, vacuum it using a special nozzle so as not to scratch the shelf.
4. Clean and degrease the inside of the cupboard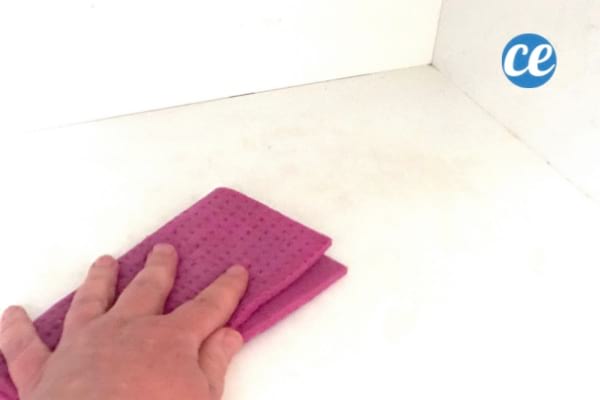 Next step: the deep cleaning itself.
In empty spray bottlemix water and white vinegar 50/50.
It is an ecological, efficient and economical option for cleaning.
And the advantage is that white vinegar is very effective in cleaning, disinfecting and degreasing at the same time.
It is also a natural product without any danger for your health.
This is important, especially if you store food in your cupboards.
Take a clean cloth or sponge.
Moisten it with your cleaning and degreasing product.
Run it inside cupboards, on shelves and walls.
5. Dry the inside of the cupboard with a cloth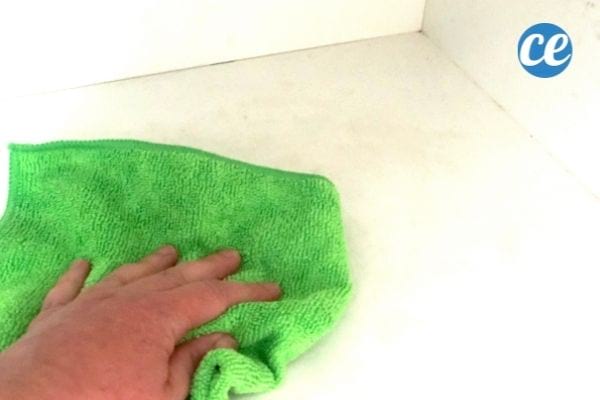 This step is not essential, but it is strongly recommended.
This way you are sure that you do not leave traces.
In addition, it prevents humidity from damaging the shelves.
Use a dry, soft cloth to wipe the walls and shelves.
If ever a stale smell has crept into your cupboards, use this trick to get rid of it.
6. Put all the items back inside the cupboards
Did you take out all the kitchen utensils or food stored in the cupboard?
So, now all you have to do is put everything away.
You can take the opportunity to shop around for your food.
Because now is the time to check the expiry dates.
Result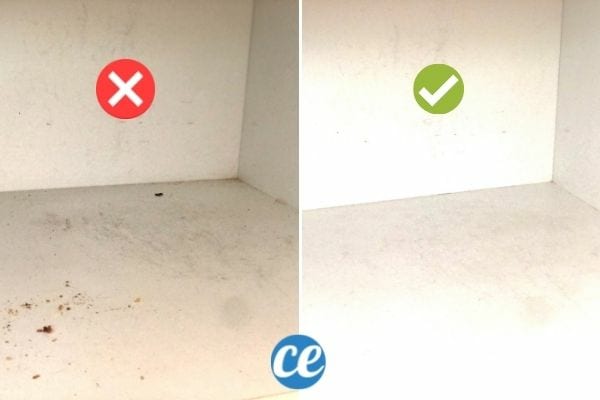 There you go, the inside of your closets is now perfectly clean 🙂
It's simple, fast and effective, isn't it?
It is best to do this major cleaning fairly regularly.
That way, you spend less time there each time.
Once every two or three months seems reasonable.
Now that everything inside the cupboards is polished, all you have to do is do the outside!
The good news is that you can use this trick to clean out any closet:
Bedroom, bathroom, Ikea closet, closet for clothes, wooden, melamine, glossy or matt closet.
Your turn…
Have you tried this tip for deep cleaning the inside of cupboards? Let us know in the comments if it worked for you. We can't wait to read you!
Do you like this trick ? Click here to save it to Pinterest or click here to share it with your friends on Facebook.
Also to discover:
How to EASILY Clean Grease Stains from Kitchen Furniture.
How to Clean Kitchen Cabinet Tops (and Keep Them Effortlessly Clean).