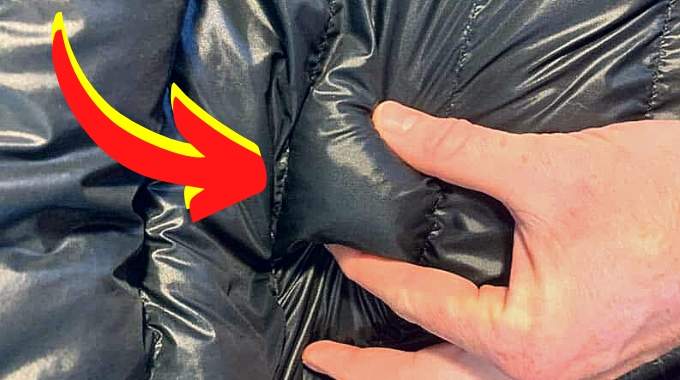 Fortunately, there is a very simple trick to dry it and find it like new, without a dryer.
And that's where Franck comes in… he's a high mountain specialist at North Face.
It was he who gave me his technique for drying my down without damaging it.
Here'trick to fluff up the feathers of a down jacket after washing it. Look :
What you need
– hair dryer
How to plump up a down jacket after washing
1. Machine wash your down jacket by following this tip to the letter.
2. Remember to choose a program with the gentlest possible spin, or even none at all.
3. Install your drying rack in the middle of a heated room where the air circulates well.
4. Lay the down jacket flat on the drying rack with no other clothes next to it.
5. It must be in maximum contact with the air both above and below.
Note : do not place it flat on a table or on a bed, for example.
6. Shake it every 30 minutes, turning it to the other side each time.
7. To speed up drying, turn on your hair dryer on the coldest setting.
8. Pass a blow of hair dryer for 5 min on the parts which have difficulty in drying.
Note : leave at least 1 meter between the hair dryer and the garment.
Result: a washed down jacket that has regained all its fluffiness!
And There you go ! Now you know how to re-inflate a down jacket after washing without a dryer 🙂
Easy, fast and effective, right?
You don't even need to take it to the cleaners…
That's a hell of a saving!
My husband wears a Patagonia down jacket for his work in the high mountains.
He is an alpine hunter.
And since I know this easy technique, I talk to him like that.
It's really effective.
So I also use this trick for my little Jott sleeveless down jacket.
I have one also from Uniqlo and it works just as well.
Be aware that this trick works equally well for natural or synthetic down jackets.
Why does it work?
Laying the jacket flat allows the feathers to dry naturally without clumping.
Because this is what happens if you hang the down jacket on a hanger:
All the feathers fall into the bottom of the jacket.
And they are clumped and dry while remaining flat.
However, we want them to reinflate!
The more space the feathers take up, the more the hermetic barrier protects against the cold.
How to reinflate a down jacket with a dryer?
Are you lucky enough to have a clothes dryer at home?
So here is the simple and effective trick to reinflate it:
1. Put your down jacket in the dryer.
2. Add two tennis balls to the drum to « shake » the jacket trim.
3. Start a first cycle « delicate » to remove as much moisture as possible.
4. Take out the down jacket and shake it to air the feathers.
5. Carry out a second drying cycle with the same programme.
6. When finished, shake the jacket again to redistribute the filling.
7. If the feathers are well distributed and the sausages are plumped up, the down jacket is dry. Otherwise, run a final drying cycle.
4 mistakes to avoid
– Never put a wet down jacket on a hanger. The feathers all fall down and do not fluff up.
– Air dry the jacket. Especially not on a radiator. However, you can put it in the sun.
– Avoid dry cleaning.
– Wait until the feathers are completely dry before storing the garment in a closet. Otherwise you risk mold.
Your turn…
Have you tried this trick to dry your down jacket without damaging it? Comment in the comments to find out if it worked for you. We can't wait to read you!
Share this tip
Do you like this trick ? Click here to save it to Pinterest or click here to share it with your friends on Facebook.
Also to discover:
The Easy Tip To Machine Wash Your Down Jacket WITHOUT Damaging It.
Here's Why You Should Hang Your Laundry Outside (Even In Winter).