You can't even imagine how easy it is to bake delicious bread at home.
With only 4 ingredients, 5 min of your time and no machine, you can make bread that looks straight out of the bakery!
This recipe is great for beginners! It's true that it can be a little scary to start making bread.
There's the mixing, the kneading, the rising of the dough… It seems like it's going to take forever and we have every chance of screwing up.
Well, that's FALSE! If you think you can't bake bread, then this super easy recipe is made for you.
4 ingredients, 5 min of work and you don't even have to knead the dough…and here's what you're going to serve for dinner:
You've probably seen breads like this at your local bakery.
They are often called « balls » or « loaves of bread ».
The outside is crispy and chewy, while the inside is melting and tender.
This bread is perfect to accompany a soup, to dip in a sauce or to make good hearty sandwiches.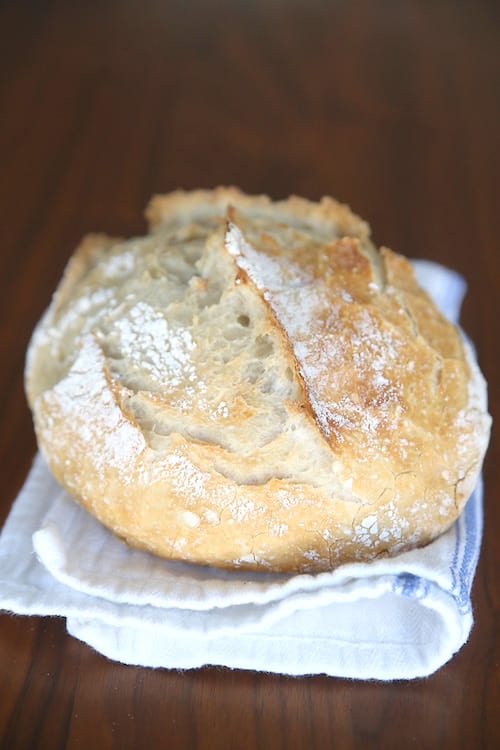 The secret to this incredible homemade bread is a longer rising time than classic recipes. So you have to plan ahead.
The rise of the dough will take between 8 and 24 hours. The longer you leave, the better your homemade bread will be.
As a result, you can start preparing your bread the day before your meal or in the morning before leaving for work. In both cases, the result will always be great!
The preparation of the dough itself takes very little time. Which makes this recipe much easier to make on weekdays than other classic bread recipes.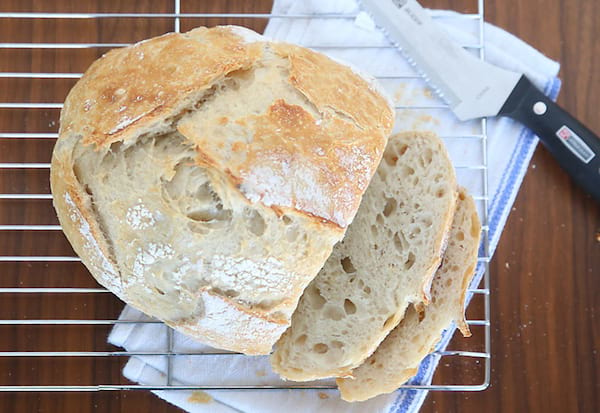 Just the picture makes you want to eat it, doesn't it?
Without further ado, here is the super easy homemade bread recipe :
What you need
– 35 cl of hot water (not hot, just hot)
– oil
How to do
1. Pour the flour, salt and yeast into the container.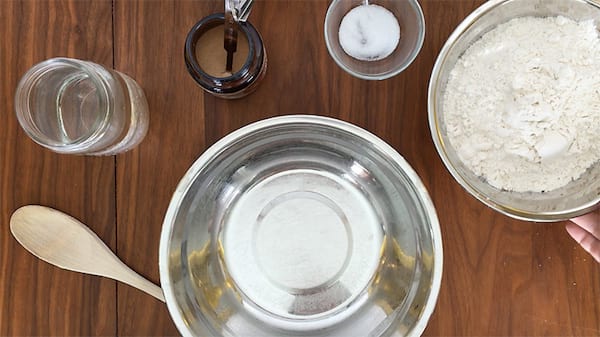 2. Mix these ingredients for a few seconds with the wooden spoon.
3. Add hot water to the container.
4. Mix for one minute until the dough is smooth and the water is well incorporated. No need for kneading and don't worry if the dough looks funny. It's normal.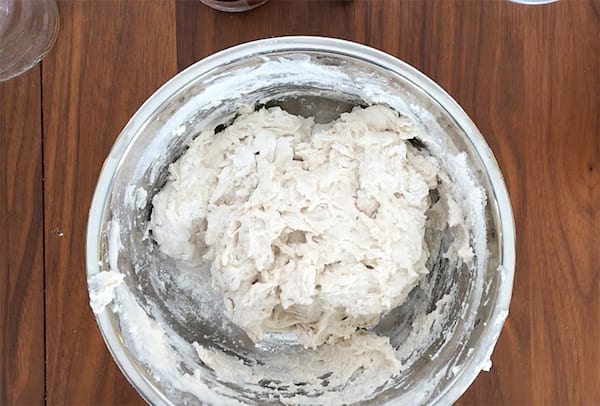 5. Cover the container with cling film.
6. Let the dough rest at room temperature for 8 to 24 hours. The batter will make small bubbles as below: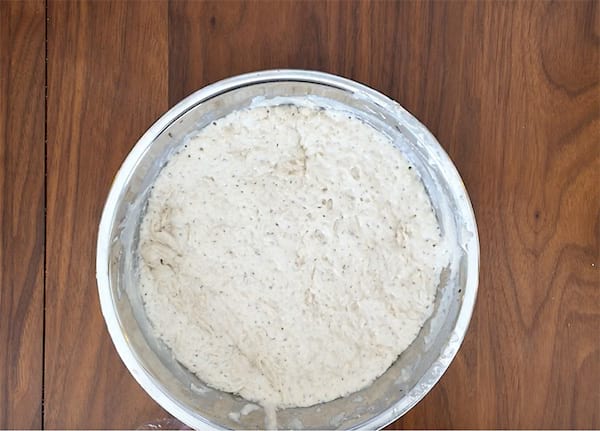 7. About 90 minutes before serving your bread, place the dough on a floured surface.
8. Put flour on the hands and form a ball. To do this, simply pull the edges of the dough on top as below:
9. Let it sit again for about 30 minutes.
10. Preheat the oven to 230° and put the dish in which you are going to bake the bread in the oven to preheat it.
11. After letting the dough rest and preheating the oven for 30 minutes, use a sharp knife to make a cross on top of the dough.
12. Lightly oil the baking dish. You can use a spray to easily spray the oil.
13. With floured hands, take the dough and place it in the hot dish.
14. Cover the dish with a lid and put it in the oven.
15. Cook covered for 30 mins.
16. Remove the lid and cook for another 10-15 minutes until the top of the bread is golden brown.
Result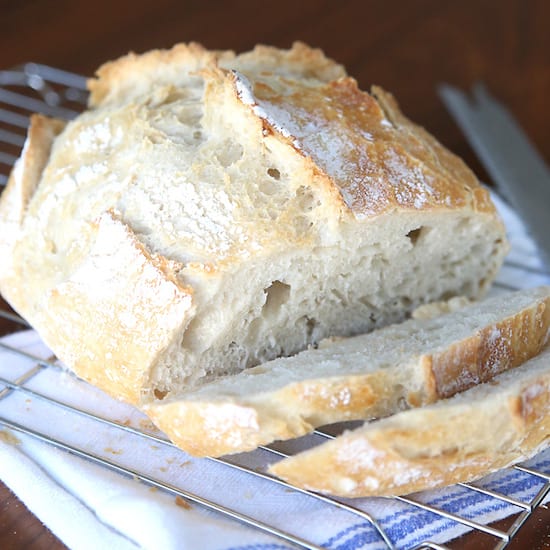 There you go, your homemade bread is already ready to be tasted 🙂
So, you see, it's really easy to do, isn't it? And you will see that it is simply delicious!
Me, I like to let my bread cool for about fifteen minutes before cutting it so that it doesn't crush.
But if you have a electric knifeyou can cut slices of it as soon as it comes out of the oven.
However, if you don't have bread knife very sharp, we will have to wait even longer.
But it's worth it, we promise! Especially if you accompany it with homemade butter to eat your sandwiches in the morning. mmm too good!
More tips
– To put the bread in the oven, you can use a cast iron pot or casserolethe bowl of your slow cooker, a deep casserole or any oven-safe container that has high enough sides.
– If your oven-safe container does not have a lid, you can use aluminum foil to cover it.
– You can also form the ball of dough on a sheet of baking paper and put everything in the baking dish. It's even easier to place the bread in the dish.
– A few readers have told me that the bowl of their slow cooker split due to the heat of the oven. I've used mine several times and it's been fine. But I wouldn't mind if you messed up the container of your slow cooker. So it's at your own risk!
Questions answers
Here are some questions I have been asked by friends. So I give you my answers below, in case you were wondering the same questions.
And if you have any others, feel free to post them in the comments.
– Can I make this bread with wholemeal flour? Yes and no. If you replace white flour with wholemeal flour, you will get a much denser bread. See what you prefer.
– Should the dough be left to rise for 8 or 24 hours? In fact, the rise of the dough takes place between 8 and 24 hours. It's for you to see. That being said, I think that after 12 hours, the dough has risen enough.
– Should you just let the dough sit on the counter for so long and do nothing else? Yes that's exactly it.
– My dough rose then it fell before I formed the ball. Can I still make my bread? Yes of course no problem.
– After rising, my dough has become so runny that I can't make a ball out of it. What's wrong ? Well, the dough is very flexible, but you should still be able to make it into a soft ball by quickly bringing the edges inwards. If you can't do this, you may not have added enough flour to start with.
– Is it mandatory to use bread flour? No, all-purpose flour works just fine. But try to take organic flour anyway.
– Can I skip the yeast and use self-rising flour instead? No, sorry that won't work.
– Can I add other ingredients to this bread, such as cheese, garlic or olives? Of course, although you may have to try several times and I can't assure you that it will work. Sometimes crushed garlic interferes with the yeast and the bread doesn't rise as well. Sometimes the cheese also makes the bread a little more moist. I don't have any recipes for making special bread yet, but if you've tried it, share your experience with us in the comments.
– Can I make this recipe with gluten-free flour? To be honest, I don't know since I've never baked with gluten-free flour. But if you have already tried, leave me a comment.
– Should I grease my baking dish? And if so, what if the dish is already hot? Many baking dishes don't need to be greased once they're hot when you put the dough in them. However, yours may need it. The only way to know is to try. In this case, I recommend that you spray the oil with a spray on your baking dish before putting the dough.
Your turn…
Have you tried this easy recipe to make your homemade bread? Tell us in comments if you liked it. We can't wait to read you!
Share this tip
Do you like this trick ? Click here to save it to Pinterest or click here to share it with your friends on Facebook.
Also to discover:
How to Make Bread with a Slow Cooker? The QUICK and Easy Recipe.
Make your own bread without a bread machine. Our Easy Recipe.