It's true that we all know the red emoji.
It allows you to express your affection to someone…
You will finally be able to use it in your conversations and also respond in the right way.
Whether it's on WhatsApp, Instagram, Facebook, Messenger, Snap or iMessage, here's what he means. Look :
What does the emoticon 🤍 mean?
Obviously this white heart is also linked to love.
But not the same type of love as the red heart…
So what is its definition?
This colorless emoji represents pure love, but platonic.
It also symbolizes fidelity.
In affective language, it allows you to show your deep affection for a person.
As you will have understood, it is a feeling devoid of any passion or sexual attraction.
It's not the kind of heart to use in a couple…
What is the other meaning of this emoji?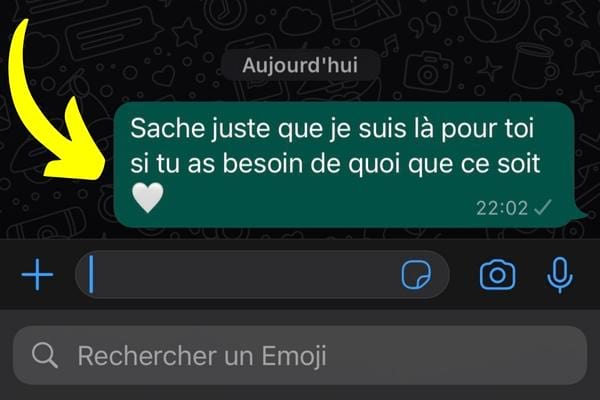 This simple white heart also has another meaning that is not directly related to love.
It is also used to make tribute to a deceased person.
It's a good way to pay tribute to the memory of a deceased person or a relative.
If you have a friend who has lost a loved one, you can show your support by using this white heart.
Who can use the white heart emoji?
A parent who wants to send a message of love to his child is the best example.
For instance, a mom or a dad can use it to express his love to his child.
If you have ever received a message like this from your parents, now you know what it means!
Example of uses
– « Know that I am always here for you if you ever need anything 🤍 ».
– « We're all thinking of you. If we can do something for you, don't hesitate to tell us 🤍 ».
– « I wish you a lot of courage 🤍 I'm sure you'll manage to get out of this difficult situation ».
– « Brothers for life 🤍 ».
If you want to answer, you can also put a white heart.
For instance :
– « I really don't know what I would do if you weren't here 🤍 ».
– « You are always there for me. I love you very much. 🤍 ».
How to make a 🤍 on your Android or iPhone?
Want to respond with an emoji 🤍 when chatting on your phone?
To activate this symbol, it's very simple.
Simply click on the emojis icon of your Android or iPhone keyboard.
Then in the search field, type « white heart » to make it appear.
All you have to do is click on it to send it.
If you want to copy paste it, you can do it directly below here:
🤍
Your turn…
And you, how do you use this white heart emoji? Tell us in the comments. We can't wait to read you!
Share this tip
Do you like this trick ? Click here to save it to Pinterest or click here to share it with your friends on Facebook.
Also to discover:
Here's How to Make All Smileys on Facebook.
The Simple Trick To Make Hearts on Facebook.