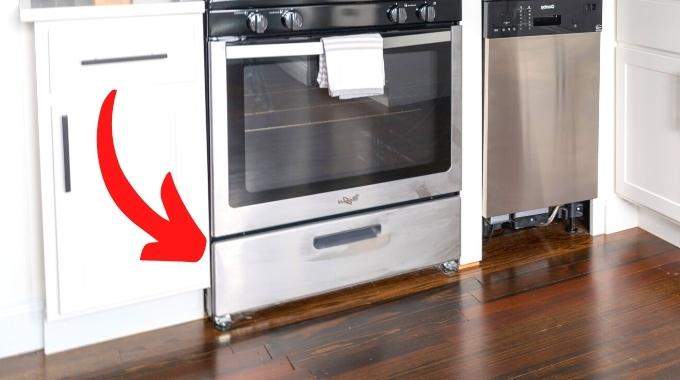 Many ovens have a drawer placed just below.
And I wondered for a long time what it could be used for…
So, I ended up asking my grandmother.
And what she answered surprised me.
It is used to keep your good meals warm.
It's easy to use and really convenient. Here's how it works:
How to do
1. Cook your dish as usual.
2. Once your dish is cooked, turn off the oven.
3. Open the drawer.
4. Put your dish in the drawer.
5. Close it.
Results
There you go, your meal will stay good warm until dinner 🙂
Easy, efficient and practical!
So if, like me, you store your dishes, your pans or your baking sheets, your cooking grids, your grill pans or your cake molds in this space…
It's time to change your habits!
Because believe me, finally this warming drawer is essential once you know what it is for!
So that gratins, quiches and pies, lasagna, moussaka, etc. stay warm, there is no better.
No need to reheat them before eating!
But it must be admitted, it is not necessarily suitable for meats (roasts, chicken…).
Why is this grandma thing awesome?
The advantage is that the cooking is stopped, but your dish stays hot without cooking.
Why ? Because it takes advantage of the heat that comes from the oven, just above.
The good news is that it won't burn.
That's what happens when you leave your dish in the oven.
Even after turning it off, it continues to heat up…
And it's a blow to end up with a burnt quiche on top!
And then, if necessary, you can always continue to use the oven.
The icing on the cake, the warming drawer don't dry out your gratin or your quiche…
So if you have to buy a new one, make sure it has a drawer.
Some don't. This is particularly the case for built-in ovens or modern hi-tech ovens.
But generally, you can have one installed, regardless of the brand (Delinia, Bosch, Siemens, etc.).
You can find them in DIY stores such as Leroy Merlin, Brico Dépôt, Lapeyre, Castorama, Bricoman… or furniture stores (Ikea).
Precaution
Before putting your hot dish in the drawer, check that it is heat resistant.
This prevents the hot dish from burning the bottom of the compartment.
It should not be confused warming drawer and storage drawer !
Your turn…
Have you ever used the drawer under the oven to keep your dishes warm? Let us know in the comments if it worked for you. We can't wait to read you!
Do you like this trick ? Click here to save it to Pinterest or click here to share it with your friends on Facebook.
Also to discover:
Here's the Secret to Cleaning a Very Very Dirty Oven WITHOUT GETTING TIRED.
Finally a tip for cleaning between the windows of an oven.