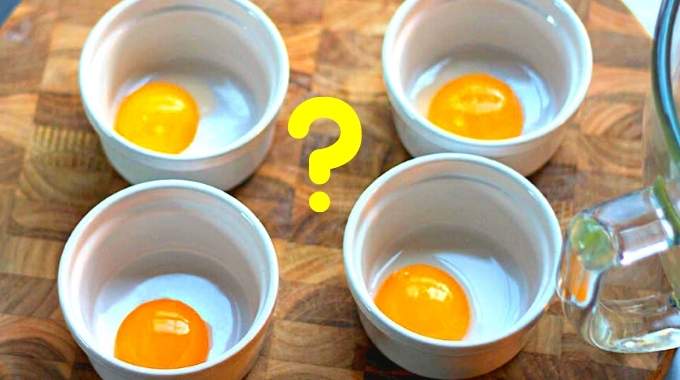 This is a question I often ask myself.
Because when cooking, it is not uncommon to need egg whites.
Result, I end up with egg yolks and I do not what to do with them.
So I asked my grandmother.
And she told me all her simple and practical tips for use the remaining egg yolks.
Savory or Sweet Recipe … Here are 16 easy recipes for using egg yolks. Look :
1. Egg yolks for a custard
If you have egg yolks, now is the time to make a succulent custard.
It's a classic recipe that goes perfectly with most of your desserts.
For example a homemade chocolate cake or a delicious mug cake.
Admit that you have mouth watering too! Recipe here.
2. Make carbonara pasta with egg yolks
Do you have extra egg yolks? It is an excellent pretext to make pasta carbonara.
Because yes, you got it …
To make this delicious creamy sauce that coats the tagliatelle so well, you need egg yolks.
It is even essential. It's an economical, quick recipe that everyone is helping. Recipe here.
3. Make your homemade mayonnaise with an egg yolk
When we taste the homemade mayonnaise, then impossible to eat industrial mayonnaise.
It is so easy. But best of all …
You need an egg yolk to make delicious homemade mayonnaise.
And you don't need a Thermomix to make your mayonnaise recipe a success!
4. Prepare crèmes brûlées with egg yolks
Do you have extra egg yolks?
That's good because you need lots of egg yolks to make delicious creme brulee.
This simple and economical dessert will delight the taste buds of your guests! Here is the recipe easy to make a crème brûlée Cyril Lignac way.
5. Use egg yolks as a binding agent
You have noticed ?
It is not always easy to form beautiful meatballs or steaks for a homemade burger with the ground meat.
Sometimes the meat does not hold well. And the dumplings or the steak form badly. You see what I mean ?
Just add an egg yolk to make the meat easier to work with. Egg yolk is used of binder.
And there is no impact on the final taste.
6. Add egg yolks to an omelet
We don't necessarily think about it … But when there are egg yolks left …
We can always integrate them into the preparation to make a good omelet. Easy, isn't it?
7. Make a Caesar sauce with an egg yolk
If there is one salad that I love … this is the Cesar salad with its garlic croutons!
But we must admit, this salad would be nothing without its special sauce!
Well, imagine it takes an egg yolk to make this delicious sauce.
Got an unused egg yolk? You know what you have left to do. Recipe here.
7. Use egg yolks to make ice cream
Do you have egg yolks?
Turn them into a ice cream ! All gourmets will be delighted.
Here is an easy to make honey ice cream recipe without ice cream maker with egg yolks.
8. Make Breton pucks with egg yolks
Some cakes taste like childhood! This is the case of Breton pucks.
This sweet taste with a little touch of salt, this crunchy and melting texture in the mouth …
A real treat for afternoon tea! Well, did you know it takes egg yolks to make them? Recipe here.
9. Or cannelés!
Another local specialty: the cannelés.
This time, you have to go to Bordeaux to taste these delicious soft cakes.
Unless you do them yourself at home.
And in this case, you need egg yolks. Recipe here.
10. Make a hollandaise sauce with egg yolks
Despite its name, the Hollandaise sauce is a great classic of French cuisine.
And the basis of this sauce is a frothy cream (a sabayon) made with egg yolks.
This sauce goes very well with eggs, white fish or asparagus. Recipe here.
11. Brown the sausage puffs with an egg yolk
Of course, for brown a puff pastry, nothing beats a beaten egg yolk.
This is the best way to have a beautiful golden puff pastry.
And for making small sausage puffs for an aperitif, it's ideal (and not expensive!).
12. Prepare a lemon curd with the egg yolks
a lemon curd is a custard with lemon.
It can be done easily in a few minutes in the microwave.
Afterwards, it is eaten like that with a teaspoon. Or it serves as a base for making a lemon pie.
Either way, don't forget that you need egg yolks to make this lemon curd recipe.
13. Make a cookie mug with an egg yolk (and lots of chocolate chips!)
Make a cookie in a mug with a load of chocolate chips and an egg yolk, do you like it?
It must be said that this cookie mug recipe is super easy and quick. And it's just really, really good!
14. Brown a cake with an egg yolk
Brown a cake with an egg yolk …
It is a pastry technique well known to our grandmothers to have a beautiful shiny and appetizing cake!
It must be said that it is simple and it is effective.
15. Make a brioche by adding an egg yolk
The Vendée brioche is a great classic of our grandmothers' pastry.
I guess we all remember that delicious brioche smell in the kitchen …
Well, one of the secrets to making this homemade brioche recipe a success is adding an egg yolk.
16. Make pasteis de nata with (lots of) egg yolks
If you've ever been to Portugal, you must have tasted this delicious local specialty of Lisbon.
If not, it's time to make them at home!
These cupcakes are made with several egg yolks. Recipe here.
Your turn…
Do you know any other recipes for using egg yolks? Share them with us in the comments. We can't wait to hear from you!
Do you like this trick ? Click here to save it on Pinterest or click here to share it with your friends on Facebook.
Also to discover:
Preserving egg yolks: my tip for preserving them.
What To Do With The Leftover Egg Whites? 8 Unique Ways to Reuse Them.