Today I show you how to find wooden pallets for free.
The only problem ? Since they are trendy, wooden pallets have become increasingly difficult to find!
In this article, you will discover the 5 best places you can EASILY collect free pallets.
But be careful, you have to be vigilant, because some pallets have undergone toxic treatments!
Fortunately, I will also show you how to spot pallets that are dangerous to your health. Watch the easy guide:
Where to get wooden pallets for free?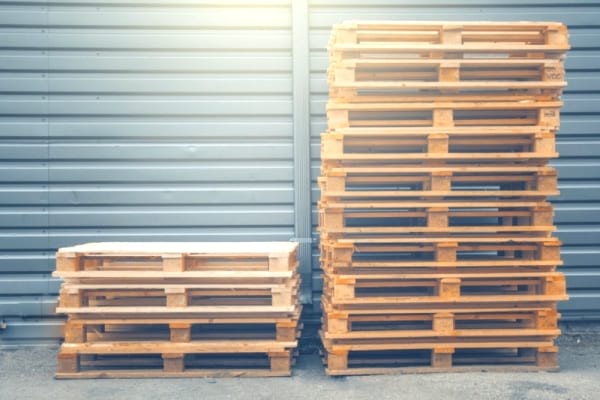 Here are the 5 places where you can easily find wooden pallets for free:
– industrial and craft areas
– supermarkets and hypermarkets
– construction sites
– small businesses
– website montasdebois.fr
But be careful, NEVER use without permission!
Always ask the owner of the premises or employees if you can help yourself.
Why? Because some pallets are consigned.
It is for this reason that you must make sure that the palettes are good to give before you serve.
In addition, some pallets can be toxic.
But don't worry, I show you how to spot safe pallets, a little further down in the article.
1. Industrial areas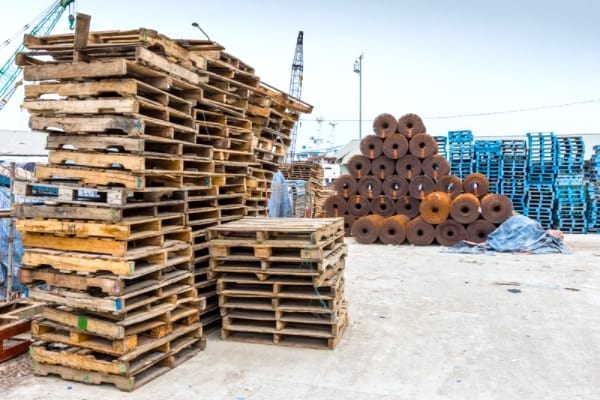 Craft and industrial areas are one of the best places to find pallets.
Indeed, they bring together many shops, companies and factories.
Often the pallets are stored outside.
There are so many that some businesses look like pallet storage centers!
Just ask if they are to give in.
And most of the time, you'll be let off with a few.
So how do you find an industrial zone near you?
The easiest way is to go to This site which lists the areas throughout France.
2. Supermarkets and hypermarkets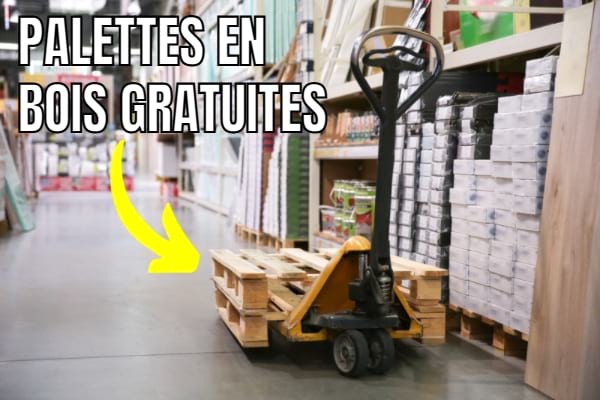 Whether it is a supermarket or a hypermarket, the goods are necessarily delivered on pallets.
As long as they are not recorded, food stores are happy to dispose of them easily.
You just have to ask the department manager or the store manager if you can collect a few pallets.
Most of the time, it is with pleasure that they agree to give you some.
Generally, they will let you know the delivery days and where to pick up the pallets.
There are also many big box stores that leave wooden pallets in parking lots.
In this case, all you have to do is help yourself! It's even simpler.
To find all the supermarkets around you, use This site.
3. Construction sites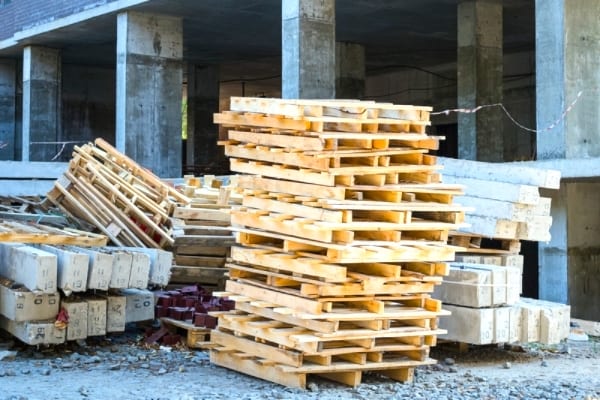 The major projects are one of the best places to get free wooden pallets.
Indeed, construction materials are generally made on pallets, most of which are then thrown away.
The only concern is that large construction sites are often closed to the public.
So the best thing is to go there and find someone to talk to and ask.
It is for this reason that the small construction sitessuch as houses under construction, are often a better option.
Indeed, they too often have wooden pallets to give away.
You just have to find the owner or the site manager to find out if he agrees to part with it.
4. Wholesalers and small businesses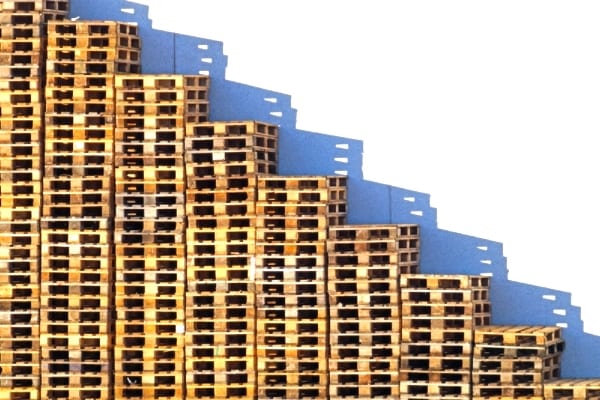 Like supermarkets, many companies receive their deliveries on pallets.
This is particularly the case with wholesalers, who most of the time get rid of them willingly.
Indeed, wholesalers work on large volumes of goods, and have an impressive number of pallets.
Generally, it is very easy to recover pallets there.
Wholesalers are happy to get rid of them quickly to free up more space in their warehouse.
Some companies even place pallets in plain view on the sidewalk, knowing that they will quickly disappear!
To find wholesalers near you, the best is to type « wholesaler » in Google Maps.
5. The website montasdebois.fr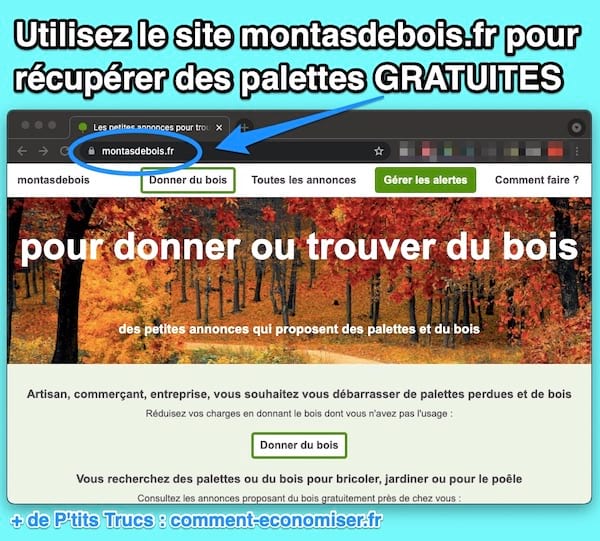 You have surveyed industrial areas, supermarkets, companies and construction sites…
But you still haven't found what you're looking for?
So, know that there is a site to help you get your hands on free wood: montasdebois.fr.
It is a platform on which craftsmen, traders and companies can donate their wood waste for free to individuals.
On this one, you will find a lot of classified ads from professionals who donate wood.
This is very useful for individuals looking for pallets.
But also for professionals!
Indeed, it saves them from making many trips to the recycling center to get rid of their wood.
And the landfills?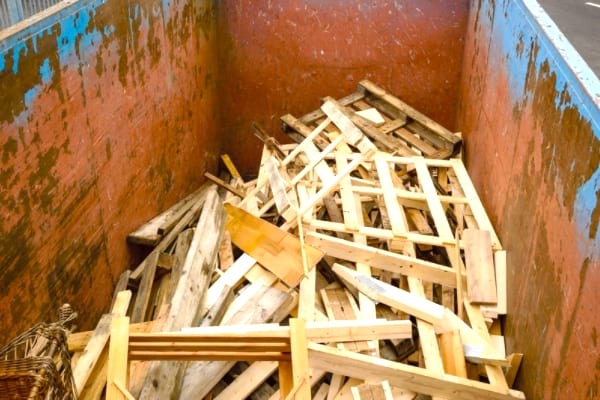 Contrary to popular belief, looking for pallets at the recycling center is not not a good idea.
For the simple reason that it is forbidden to leave with!
In fact, the contents of the dumpsters belong to the community, owner of the site.
Admittedly, it is common for the staff to give you permission to pick up a few pallets.
But be aware that these complacent employees can be accused of professional misconduct.
By the way, why are the palettes free?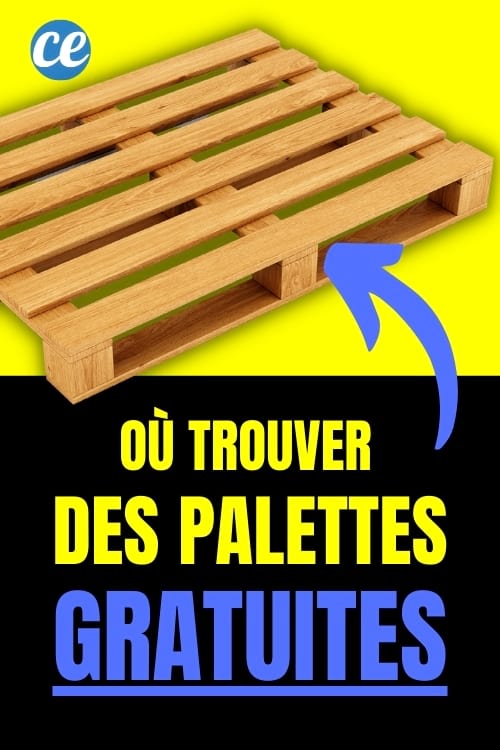 There are several reasons why companies give away wooden pallets for free.
Deposited pallets must leave after use in a recovery circuit.
Hence, it forces companies to call in professionals to get rid of them.
But the pallets clutter delivery areas companies.
It is for this reason that many companies are ready to give them to you for free.
Unmarked pallets are only used once for transport.
But throwing these pallets in the dump has a cost for companies.
In fact, they are required to make many trips to the recycling centers to get rid of it.
Thus, professionals reduce their costs by giving their pallets to individuals: it's a give and take!
How to choose your pallets to make furniture?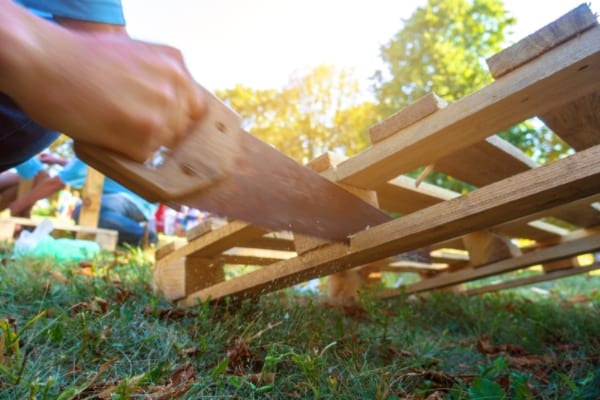 To make recycled pallet furniture, you will need pallets. That's obvious!
But not so fast…
Certain types of pallets, depending on the treatment they have undergone, can be very dangerous for your health!
So be careful when collecting pallets, and make sure they are safe to reuse.
Fortunately, spotting the types of pallets that can be used without danger to your health is very easy.
Just simply look at the marking on the pallets that you recover. Look :

Click here to easily print this guide in PDF.
Safe pallets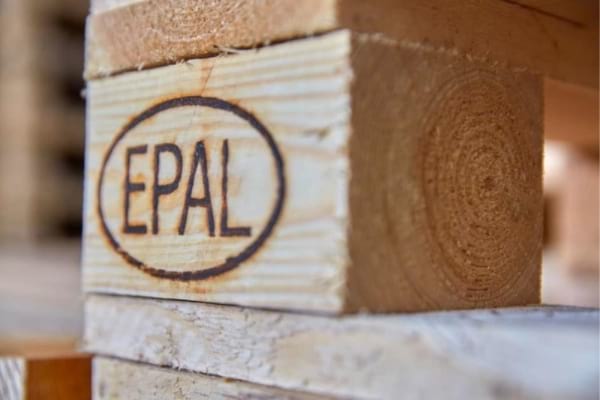 Pallets bearing the following markings are SAFE to use:
– DB : the pallet is made of untreated raw wood, from which the bark has been removed. In English, debarked (DB) stands for debarked. This type of pallet is therefore usable without risk.
– excluding tax : the pallet has received a harmless heat treatment. The HT symbol (for Heat Treatment) written on the pallet attests to this treatment.
– EPAL : a quality and safety label for pallets. EPAL pallets must be treated to prevent the spread of insects or fungi. The European Union allows uniquely heat treatment, safe to use.
– unmarked pallets : this type of pallets is used for the transport of goods within the country. If there is no marking on the palette, it means that it has not received any treatment. It is therefore raw wood, which a priori is not toxic.
Pallets to avoid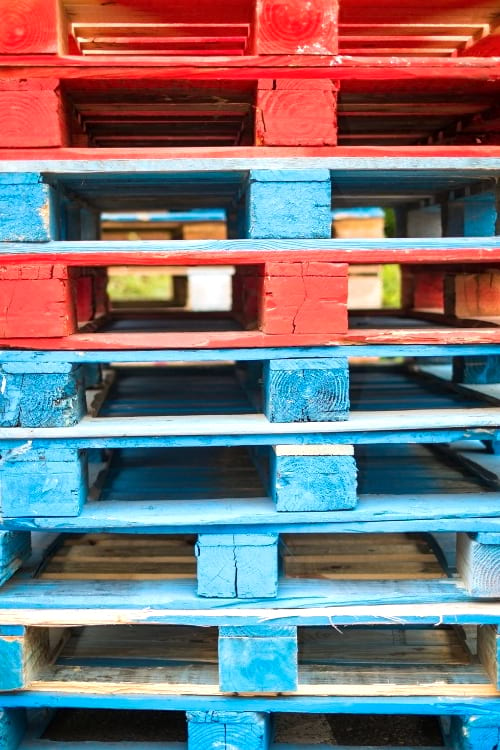 The pallets below have undergone toxic and dangerous treatments for your health. Do not use them!
– pallets with the mention MB : this acronym means that the pallet has been treated with methyl bromide, a highly toxic and very dangerous treatment.
– pallets marked with EUR : it should be avoided, unless the pallet also includes the mention EPAL.
– colorful palettes : The paints used on the colored palettes can be very toxic. Even if they are attractive, it is better to avoid them.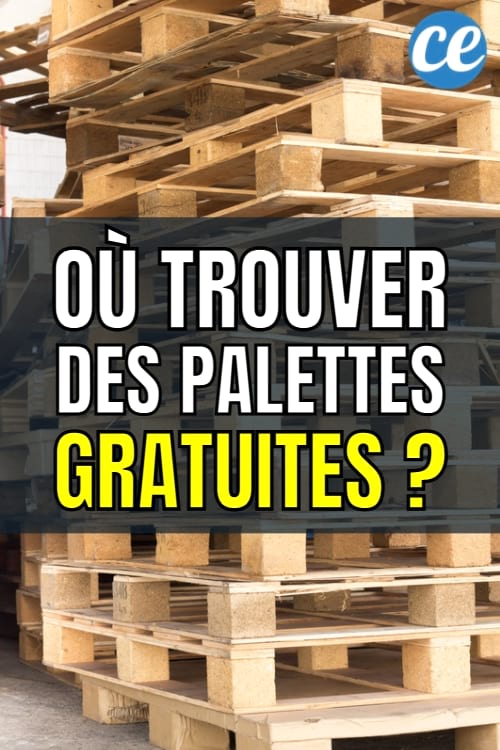 There you go, you now know where to find wooden pallets for free whether you live in a big city (Paris, Marseille, Toulouse…) or even in the provinces or abroad (Montreal).
Your turn…
Have you tried these tricks to recover pallets for FREE? Let us know in the comments if it worked for you. We can't wait to read you!
Do you like this trick ? Click here to save it to Pinterest or click here to share it with your friends on Facebook.
Also to discover:
24 Incredible Uses for Old Wooden Pallets.
Moving: 14 Places to Find Free Boxes Near You.