Today, I'm talking to you about a little advice that all travelers should know.
And I warn you: this little trick will seem very, very surprising to you…
When you walk into your hotel room for the first time, guess where to put your suitcases?
According to experts, the safest place for everyone to put their suitcases is… in the bathtub !
I'll give it to you right away: it's because of bed bugs.
In this article, I show you why it is necessary STILL put your suitcases in the bathtub of your hotel room. Look :
It protects your suitcases from bed bugs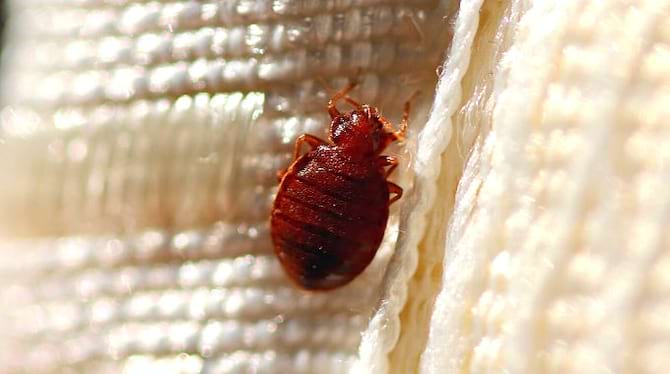 I reassure you right away:
Here, the idea is not to store your suitcases in the bathtub for the duration of your stay at the hotel!
No, it's mostly a precautionary reflex to protect them from bedbugs.
Because imagine that the room is infested with these dirty little critters.
If you put your suitcases on the bed, they would become encrusted there in the blink of an eye, and on your clothes too!
As a result, without even knowing it, you bring these disgusting insects back with you… in your house.
And there, it is just the disaster!
Because you risk ending up with a whole infestation of bedbugs.
Me, just thinking about it makes me scratch all over…
Believe my experience, these little beasts are a real scourge.
Even using tips without toxic products to get rid of it is the ordeal.
And it can be very expensive as well:
Indeed, if your mattress is too infested, it is good for the trash!
It gives you time to do a room inspection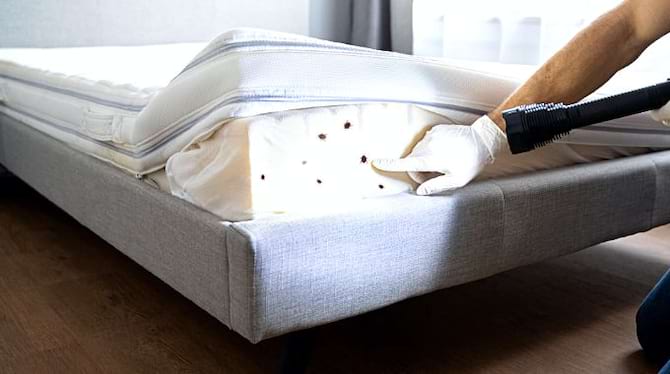 That's why it's a great idea to put your suitcases in the bathtub.
That way, it gives you time to do an inspection room for bed bugs.
Besides, do you know how to be 100% sure that your hotel room is safe?
You have to take the flashlight from your phone and comb through everything!
Including mattress seams and bed frame…
To help you, check out this article to find out if there are bed bugs in your hotel room.
By the way, why in the bathtub and not elsewhere?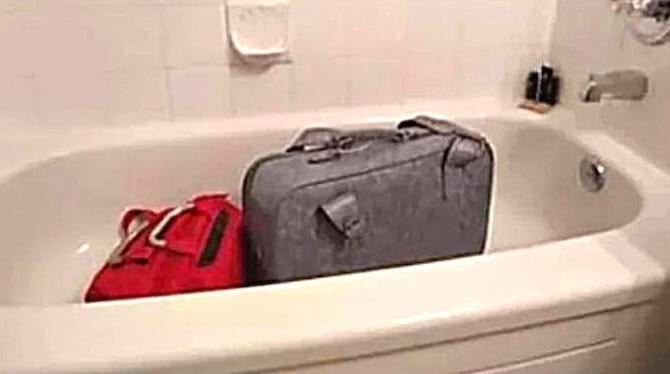 It's true…
Why would your suitcases be safer there while you hunt for bed bugs?
Good question :
Ideally, you should simply leave all your luggage outside from the room.
For example, leaving them in the car or in the hotel lobby.
If that's not possible, the bathtub is the safest place to store your suitcases and other personal belongings.
So why in the bathroom and not elsewhere in the bedroom?
In fact, it is because carbon dioxide that we blow while breathing.
Yes, it is this gas that makes bedbugs so attracted to mattresses.
When you're in a hotel room, the bed is usually where you spend most of your time.
Just for sleeping you are there for about 8 hours.
And in addition, during sleep, we breathe harder.
Which means even more carbon dioxide, and therefore more chance of attracting bed bugs.
But not in the bathroom!
Unlike the bed, we usually spend very little time there.
In addition, hotel bathrooms are equipped with a VMC to extract stale air.
That means no trace of carbon dioxide.
So it is almost impossible that bedbugs squat in the tub.
That's why putting your suitcases there is a great precaution!
Like this, even in the worst case scenario, i.e. if you find these filthy critters in the room:
Your suitcases are protected, so There is no risk to bring bedbugs home.
Put a trash bag on the bottom of the tub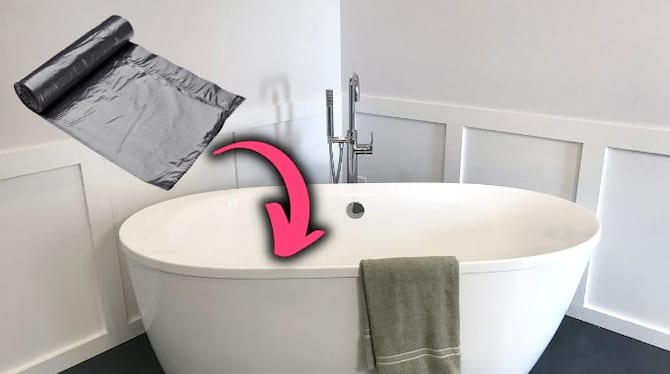 So, the effective solution to protect yourself from bedbugs is to put your suitcases in the bathtub.
Simple and effective, but…
This creates another problem!
Indeed, by dint of rolling them on sidewalks, in stations, in airports…
The suitcases are fulfilled dirt.
To avoid putting it in the bathtub, remember to take a large garbage bag with you, like this one.
This way you can unfold the bag on the bottom of the bathtub before putting the suitcases in it.
How to recognize bed bugs?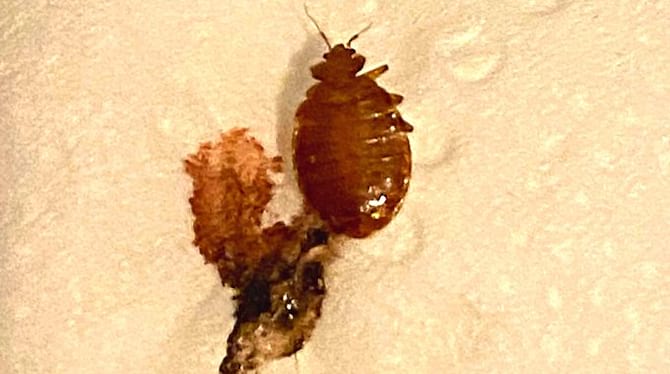 Be careful, the resurgence of these harmful insects is a reality!
This is mainly because more and more people are going abroad and bringing them back with them.
And guess how: in their suitcases !
So good to know:
Bed bugs are visible to the naked eyebrown in color and the size of an apple seed.
They don't have wings, so they don't fly, and they don't jump either.
But the worst part of it all: these critters feed on blood.
In addition, they can survive months without ever feeding.
And be careful, when they sting you, they go to great lengths…
Up to 90 times, in one night !
It causes horrible, sometimes unbearable itching.
This is why it is recommended to NEVER put your suitcases directly on the bed!
In the event of an infestation, bed bugs can sneak in very quickly…
And without knowing it, you take them with you to your house.
Why you should NEVER put your suitcases on the bed?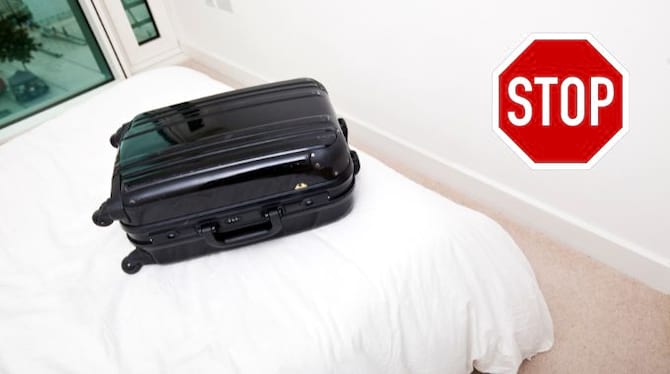 There are two very good reasons:
First, it's because suitcases pick up all kinds of dirt while traveling.
And above all, as we have just seen, there is always the risk that the bed harbors bed bugs.
But then another question arises…
What if after your inspection, your hotel room is found to be safe and pest-free?
It's true, you're not going to keep your suitcases in the bathroom during your entire vacation!
Fortunately, almost all hotel rooms are equipped witha luggage rack, like this one.
So use it!
It is a perfect accessory to store your suitcases.
Plus, at a convenient height, without breaking your back.
And of course, it goes without saying: inspect the rack from all angles before using it!
And when you're not using them, keep your suitcases closed.
Similarly, avoid putting your clothes on the bed or in the cupboards before having examined them with a magnifying glass.
With bed bugs, you never know…
Your turn…
Do you put your suitcases in the bathtub when you enter your hotel room? Let us know in the comments if it worked for you. We can't wait to read you!
Share this tip
Do you like this trick ? Click here to save it to Pinterest or click here to share it with your friends on Facebook.
Also to discover:
The Miracle Product To Eradicate Bed Bugs QUICKLY.
How to Charge Your Phone at the Hotel When You Forgot Your Charger.