Well sorry to be a little direct, but it's a very bad idea…
That said, I assure you, I used it all the time.
Especially when you see a big, cute and cozy teddy bear on the label!
Except that in reality, fabric softeners are clearly not good for our clothes… And even less for the environment.
So I see you coming.
You tell yourself yes ok but in the meantime I want a soft and smelling linen.
Well know that there are plenty of other grandmother tricks that give the same result.
For much less more…
Discover so why fabric softener is bad for your laundry and what to use instead.
Fabric softener causes deposits on clothes and reduces the absorption capacity of certain materials.
Let me explain.
Take a tea towel or bath towel.
These linens are made with a material that absorbs liquids well.
The problem, it is that by dint of washing them with fabric softener, these linens lose their absorbent power.
This is because of the products contained in the fabric softener which accumulate in the fabric as you wash.
Fabric softener builds up on clothes over time and creates a barrier against soap and water.
And it's the same if you use too much detergent.
2. Your laundry is less clean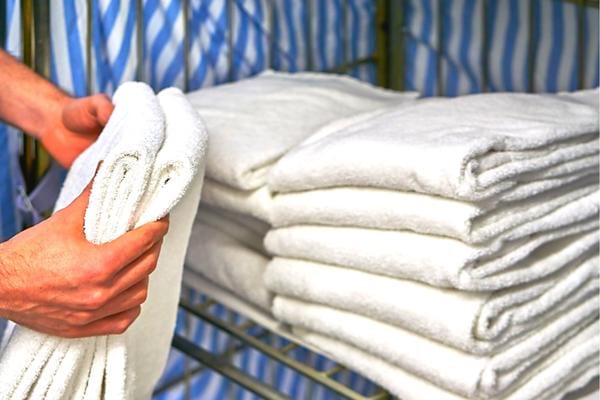 Fabric softener can keep your laundry from washing well.
Again, this is because of the deposits left by the fabric softener on the fibers of the fabric.
In fact, fabric softener builds up on clothes over time and creates a barrier against soap and water.
So if you find that your clothes are not clean…
…it may be due to the fabric softener film left on the garment.
3. Fabric softeners give headaches
Most fabric softeners are made with synthetic fragrances.
There are also preservatives, ingredients from petrochemicals and so on.
Fabric softeners are therefore anything but harmless!
These scents can sometimes cause headaches and even respiratory problems.
Especially in sensitive people suffering in particular from asthma problems.
We also advise against using these products for baby clothes.
Finally, several studies explain that this product can be carcinogenic.
4. Fabric softeners pollute our rivers
As I told you above, fabric softener contains a lot of very chemical ingredients.
These ingredients therefore pollute the water when washing clothes.
Indeed, I remind you that these petrochemical compounds are not biodegradable.
They end up in wastewater and attack aquatic fauna and flora.
What should I put in place of a fabric softener?
The best is obviously to completely do without softeners.
It is sure that your laundry smells less good, but it is also less toxic for your skin and that of your children.
If you don't like having rough laundry, there are also simple and effective tips to make it soft.
The simplest and most economical is to replace your fabric softener with white vinegar.
It's MUCH cheaper and 100% natural.
To make your laundry smell good, just add essential oils.
Another solution, make your own fabric softener.
It is not very complicated and much more natural.
The recipe I use every day is this one and I highly recommend it.
Your turn…
And you, do you use fabric softener in your machine? Tell us in the comments. We can't wait to read you!
Share this tip
Do you like this trick ? Click here to save it to Pinterest or click here to share it with your friends on Facebook.
Also to discover:
How I Make My Natural Fabric Softener.
The Homemade Fabric Softener For Very Soft Clothes with the Fresh Smell of Mint.