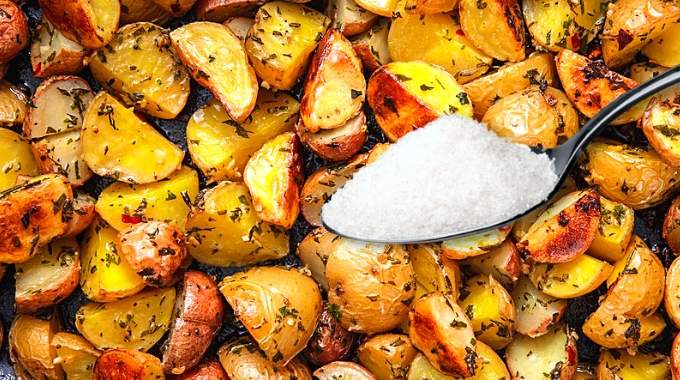 The best is when they have a very crunchy skin and a super soft interior.
But not easy to achieve this perfect balance when you are not Cyril Lignac.
So I asked Marc, the cook who owns the restaurant downstairs, what to do.
He gave me his tip for successful potatoes worthy of the name: crispy and soft at the same time.
You will see, it is only due to one small detail.
Here is how to cook good baked potatoes with 1 pinch of baking soda. Look :
Ingredients
– 6 medium potatoes
– pot of water
– dish that goes in the oven
– oven
How to do
Preparation : 5 min – Cooking : 45 mins – For 4 people
1. Cut the potatoes into chunks, leaving the skin on.
2. Meanwhile, boil the water in the pan, adding a tablespoon of baking soda.
3. Immerse the potato pieces in water for 4 to 5 minutes.
4. Drain them.
5. Preheat the oven to 180°C
6. Place the potatoes in the dish, spreading them slightly apart.
Note : if you don't have enough room, use a baking sheet.
7. Pour a small drizzle of olive oil on it.
8. Sprinkle a pinch of baking soda over it.
9. Bake for 25 mins.
10. Flip the potatoes and cook for another 20 minutes.
Result: crispy potatoes!
And now, it's ready ! Your potatoes are crispy and soft at the same time 🙂
Easy, quick and delicious, right?
It's your children who will be delighted, believe me!
Potatoes like at the restaurant with the skin cracking, and the interior super melting.
And you know the coolest thing?
You can adjust the seasoning as you wish.
Simply salt and herbs, thyme and rosemary or spices…
With a good grilled meat or fish, it's great!
Why does bicarbonate work?
Baking soda is the little ingredient that changes everything.
First, it makes the skin of potatoes porous.
Which is perfect for it to absorb your chosen seasoning.
But once in the oven, it will make it crispy.
How ?
Quite simply, because it reacts with the acid contained in the potatoes.
It releases carbon dioxide which creates the crispy crust and golden color.
Which variety of potatoes to choose?
Having all the Chefs' tips is good…
But you still have to choose the right breed of potato.
Because not all of them can be baked in the oven.
So I recommend the Samba or the Bintje which are the most popular and most suitable for the oven.
The Monalisa, the Nicola, the Charlotte or the Agata are also very popular, because they have a very melting flesh.
Make a small sauce like at the restaurant
What could be better than dipping your crispy baby potatoes in a homemade sauce?
Generally, restaurants offer a creamy garlic and herb sauce.
Here is the easy recipe that Marc gave me.
For that, you need:
– 200 ml heavy cream
– 1 onion
– 1 clove of garlic
– 2 tablespoons of mustard and olive oil
– chives
– salt and pepper.
You can add 2 pickles for the sour taste.
Chop the onion, garlic, herbs, pickles with salt and pepper.
Add the other ingredients and mix.
That's all ! A creamy deluxe sauce like in American fast food.
Depending on your taste, you can also add curry, Mexican spices, rosemary or melted cheese.
Your turn…
Have you tried this bicarbonate trick to have crunchy and golden baked potatoes? Tell us in comments if you liked it. We can't wait to read you!
Share this tip
Do you like this trick ? Click here to save it to Pinterest or click here to share it with your friends on Facebook.
Also to discover:
Easy and Ready in 20 min: The Recipe for Roasted Potatoes with Herbs.
12 Amazing Ways to Bake Potatoes (The Whole Family Will Love).