The idea is to have the correct temperature in your home without blowing up the bill.
Because, like me, you have noticed that the energy has increased drastically.
So, I show you here how to adjust a radiator to be warm without spending too much.
You just need to have a good understanding of how your heaters work.
Here are 4 tips to better adjust your heating system and avoid unnecessary expenses. Look:
1. I learn how to properly adjust the thermostat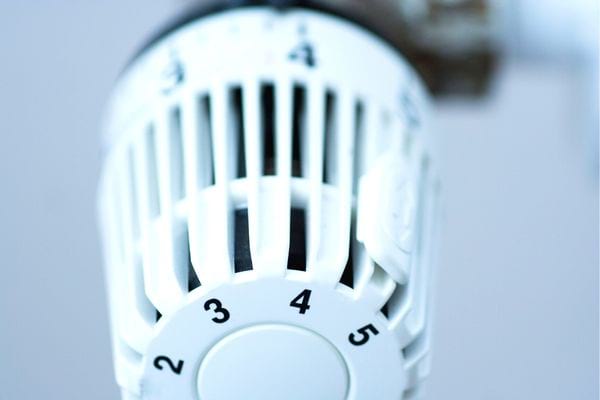 Most radiators are now equipped with thermostatic valves.
These valves make it possible to adjust the temperature according to the realities of each room.
They include symbols…but you still have to understand them.
So here's how to decipher them.
– 0 or snowflake. This is called « frost protection ». By setting the temperature to 0, in fact, the heater is not turned off.
It delivers a temperature of 7°C in the room.
It's perfect for rooms where you don't come often, or when you go away for several days.
– Moon : If the valve has the « moon » symbol, it is actually night mode.
It is interesting to program a radiator on this mode in a room.
It will then deliver a temperature between 16 and 18° ideal for sleeping well.
– 1 : By putting on one, the radiator heats up to 13°C.
It is a good heat for the laundry room, an entry or a pantry.
– 2 : Set to 2, the radiator heats up to 16°C. This is what we recommend in a bedroom to preserve the quality of sleep.
– 3 : On 3, the temperature is 20°. Perfect for the apartment in general.
– 4 : Set to 4, heating to 22 or 24°. It is ideal for the bathroom.
– 5 : Depending on the radiators, level 5 can heat up to 28°. Which is really too hot for an apartment. Not only is it not good for your health, but the bill will also explode.
2. I rule on 3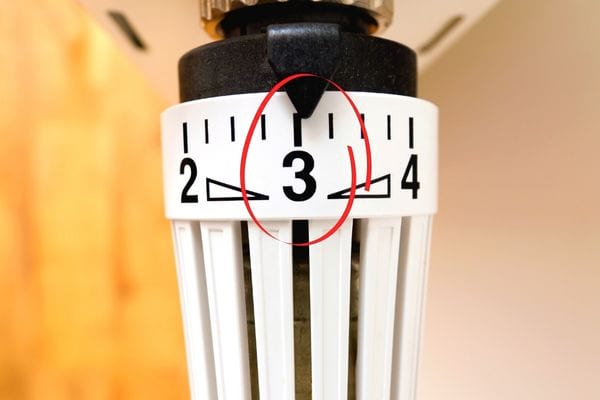 Finally, what is the right temperature?
If the thermostatic valves of your radiators are well adjusted, setting 3 is more than enough.
This helps maintain a temperature of around 20° throughout the apartment.
This is also the recommended temperature to be comfortable in a house.
3. I adapt my setting according to the parts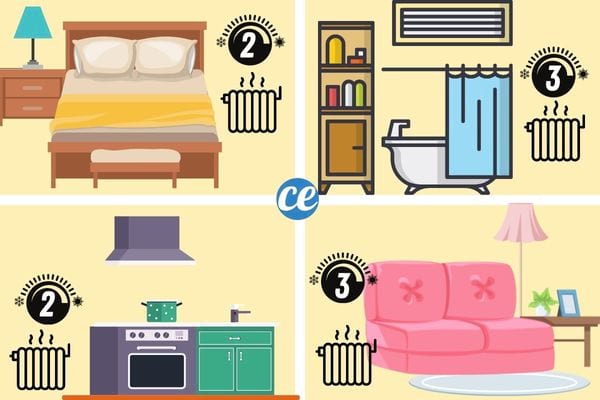 Not all parts need to be heated to 20°.
Rooms, entrances or corridors support very well a 17 or 18 °.
It's the same for the kitchen. In addition, if the oven or the plates work, the atmosphere heats up easily.
Personally, I do it like this:
– living room, bathroom on 3
– bedrooms, entrance, pantry and kitchen out of 2
– office out of 3 with programming out of 2 nights and weekends.
4. I adapt the temperature according to the exposure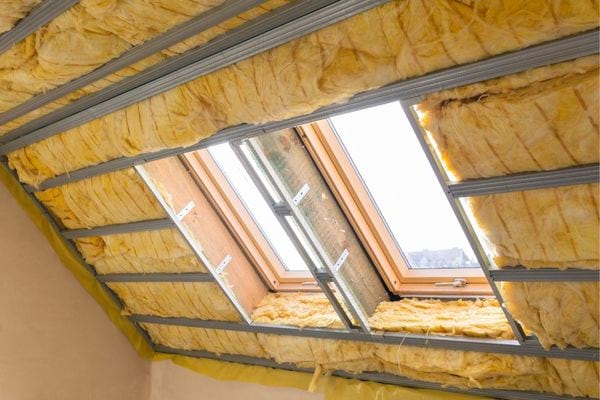 The insulation or exposure to the sun of the house are two factors that play a role.
If the house is well insulated, there is less heat loss.
In small rooms, the thermostat can stay on 2.
It is the same for houses facing south. Especially if the sun is beating down on the bay windows!
Again, the radiator can be set to 2 because the house stores heat.
We don't feel cold…and our wallets thank you!
Your turn…
Have you tried this trick to find out how to adjust the thermostat of your radiators? Let us know in the comments if it worked for you. We can't wait to read you!
Share this tip
Do you like this trick ? Click here to save it to Pinterest or click here to share it with your friends on Facebook.
Also to discover:
Increase the POWER of Your Radiator With a Simple Sheet of Aluminum.
14 Tips That Will Lower Your Heating Bill EASILY.